28th Berlin Summer University: What is life and how does it work?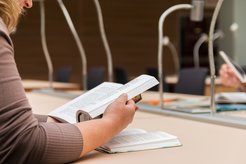 Monday, August 26, 2013 - Sunday, September 1, 2013
Organizer: Berliner Akademie für weiterbildende Studien e.V.
Location: Humboldt-Universität zu Berlin
Campus Nord
Emil-Fischer-Hörsaal
Hessische Straße 1
10115 Berlin
From the program:
Looking at life from a new perspective against the backdrop of new knowledge: Economic crises, ecological challenges, developments in information technology and research findings, e.g. in neurobiology, call for changed perspectives on how to shape life. Higher demands on education and learning, if individuals are to maintain their power of informed judgement, are essential for a democracy. SOMMER-UNI begins with the presentation of new findings in Theoretical Biology and Neuroscience, and the confrontation of theology and philosophy with these new insights.
Practical philosophy, educational science, psychology and sociology deal with questions of how to live a good life. For a successful life, upbringing and education are very central, and not only in childhood and adolescence but over the entire life course.
In the light of demographic change, the pace of innovation and global economic competition, there is also an increasing focus on continuing education for adults over the entire life span. In the afternoons, there are special, in-depth lectures, alternative theme-related cultural offerings and guided tours.