Project Information
What is BASE-II?
One of the most striking aspects of aging is its heterogeneity and individuality. Some people remain healthy and preserve their cognitive abilities until old age, whereas others show precipitous and early decline. To understand the mechanisms that produce this diversity of outcomes, we need to follow the trajectories of aging individuals over time.
With this goal in mind, researchers from Berlin and Tübingen initiated the Berlin Aging Study II (Bertram et al., 2014; Gerstorf et al., 2016; Demuth et al., 2019). Like BASE, BASE-II was set up as a multidisciplinary and multi-institutional longitudinal study that captures a wide range of different functional domains. Geriatrics and internal medicine as well as immunology, psychology, genetics, sociology, and economics are among the disciplines involved. The first wave of the study was funded by the German Federal Ministry of Education and Research under grant numbers 16SV5537/16SV5837/16SV5538/16SV5536K/01UW0808/01UW0706/01GL1716 (new).
The recruitment of the BASE-II cohort, which was completed in 2014, resulted in a consolidated baseline sample of 1,600 older adults aged 60 to 80 years and of 600 younger adults aged 20 to 35 years (Bertram et al., 2014). Data from this baseline sample can be linked to the German Socio-Economic Panel Study (SOEP), a longitudinal survey that is representative of the German population, to estimate sample selectivity.

As part of the recently completed assessment for the GendAge funding project, we are pursuing the goal of better understanding the influence of gender on mechanisms of pathogenesis (i.e., the development of illness). The examination within the framework of Gendage is also funded by the BMBF from 01.07.17 - 30.06.2021 under the reference number 01GL1716 (Charité 01GL1716A, HU 01GLI716B).
Understanding more together
The Berlin Aging Study II follows an interdisciplinary approach. The scientists involved assume that many different factors contribute to the way aging proceeds. For example, it may play a role where and how people live, what they eat, or whether they carry certain genetic traits that influence aging. In order to obtain an overview that is as complete as possible, physicians, psychologists, nutritionists, social scientists as well as geneticists are involved in BASE-II.
You can find more information on the participating research units here.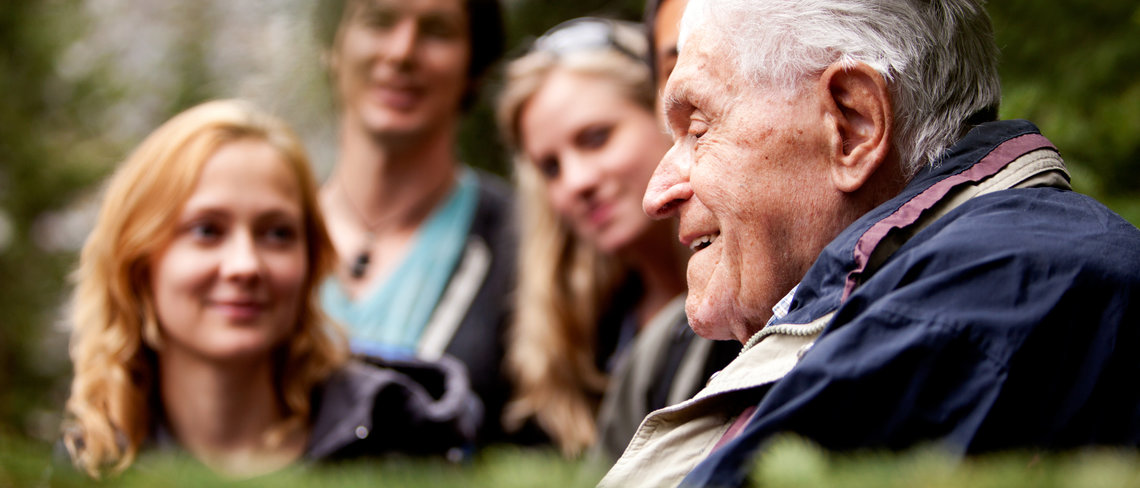 More Years
Living additional years actively and healthily. BASE-II investigates underlying conditions.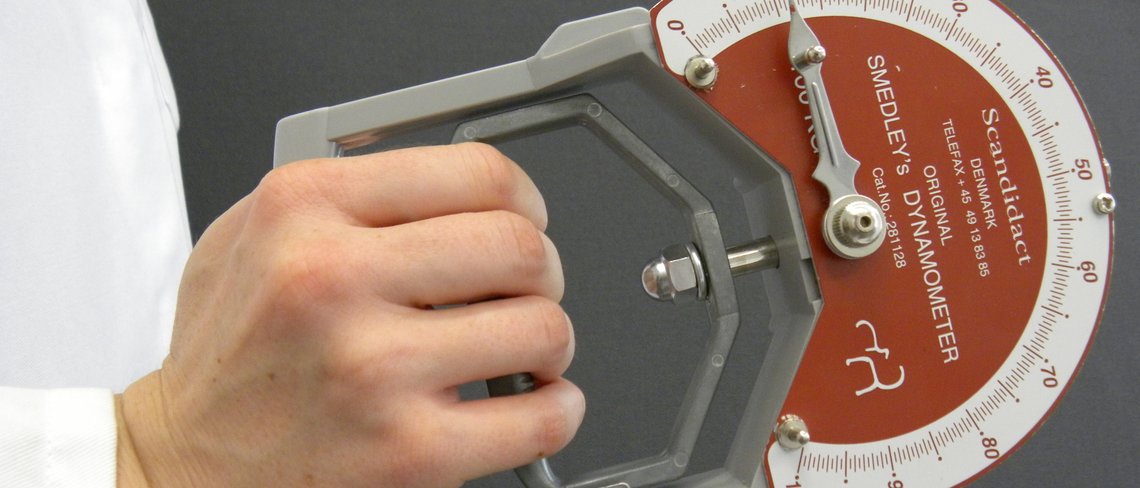 Hand-Strength Measurement
Hand-strength is measured within the "Physical Health" assessment.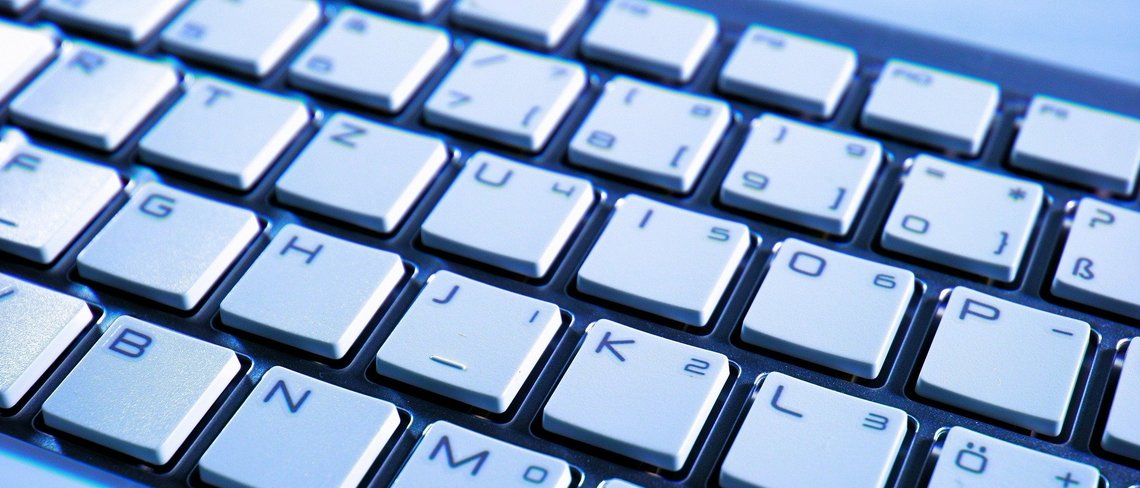 Computer Tests
Attention and memory are measured within the "Learning and Development" assessment.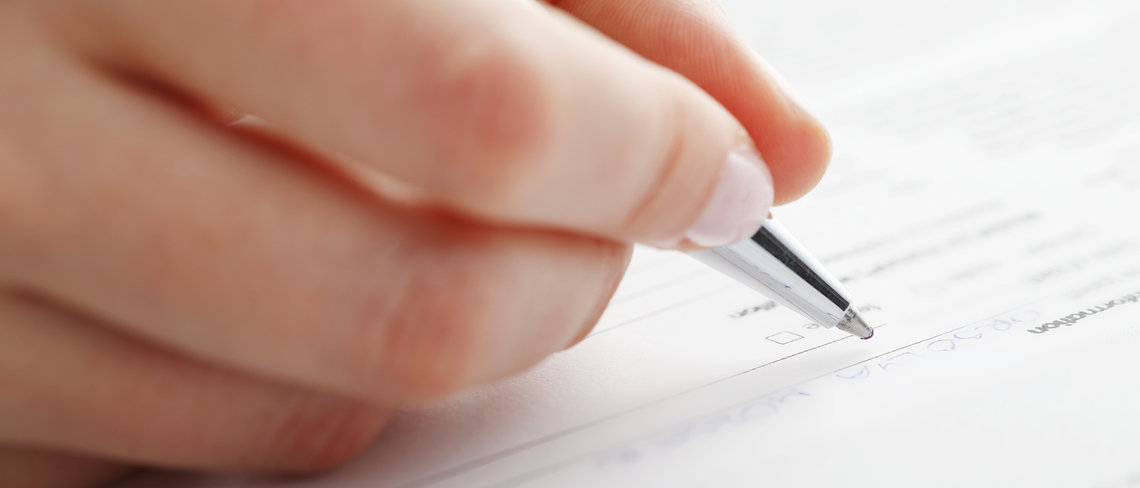 Questionnaires
"Living in Germany" uses questionnaires to find out more about social and economical factors.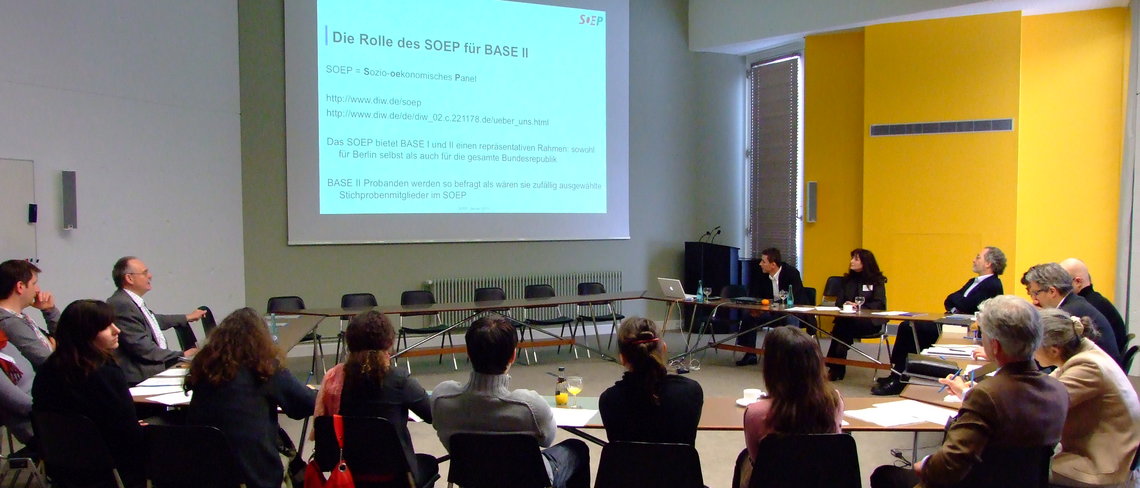 Discussion panels
Current projects are discussed and results presented in discussion panels.
Laboratory testing
Immunological tests at the "Physical Health" station.
Assessments
What is measured during the intake assessment of BASE-II?
The intake assessment consisted of three parts:
Physical Health: This assessment was carried out at the Charite – Universitätsmedizin Berlin. The participants were usually examined on two mornings one week apart. The appointments were arranged individually. A project physician took a full medical history, asking the participants about their previous illnesses, symptoms, and habits as well as medication and other treatment before carrying out a thorough physical examination. Participants were asked to complete a questionnaire about their nutrition habits. Furthermore blood samples were taken to obtain various laboratory parameters and genetic information. An electrocardiogram and assessments of lung capacity, bone density, hearing, vision, and motor skills completed the examination. If the participant wished, he or she could receive a detailed medical report, which included the results of the bone density measurements and other findings. Collection of second wave medical data is planned to begin in 2018 in the context of the GendAge project, which is funded by the German Ministry of Education and Research.
Learning and Development: This assessment was carried out by the Max Planck Institute for Human Development on the campus of Charité – Universitätsmedizin in Berlin-Mitte. Again, the participants were examined on two days about one week apart and the appointments were arranged individually. Each session took three and a half hours and was carried out in small groups. The participants followed instructions on the computer and worked on tasks relating to learning, attention, and their personal views on becoming older.
Living in Germany: For this part of the assessment, the participants are interviewed by TNS Infratest in the same way as in the survey "Living in Germany" (scientific name: Socio-Economic Panel - SOEP), which is comparable with BASE-II. The participants can answer the questions from home, on the Internet or on a paper questionnaire. The questions focus on the personal life situation, personality, and curriculum vitae.