Aircraft Noise in Berlin Affects Quality of Life Even Outside the Airport Grounds
Aircraft noise is a particularly problematic source of noise as many airports are located in or near major cities and, as a result, densely populated areas are affected. Data from the Berlin Aging Study II (Berliner Altersstudie II, BASE-II), whose socio-economic module is based on the longitudinal Socio-Economic Panel (SOEP) study which has been conducted since 1984, allows us to examine the effect of different levels of aircraft noise on the subjective wellbeing and health of the older residents of a major city, in this case Berlin.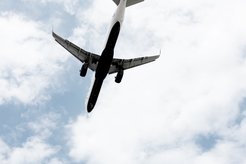 The findings show that the presence of aircraft noise, also measured using objective aircraft noise data, is associated with significantly reduced well-being, lower satisfaction with one's living environment, and poorer health. The association between well-being and a crossing altitude reduced by 100 meters is given certain assumptions — for crossing altitudes of between 1,000 and 2,500m — comparable to an income loss of between 30 and 117 euros per month.
Read more
Eibich, P., Kholodilin, K., Krekel, C., & Wagner, G. G. (2015). Aircraft noise in Berlin affects quality of life even outside the airport grounds (DIW Economic Bulletin No. 9). Berlin.

Link
To the original report about the article on the wesite of the DIW.